by Richard Connor
11 Songs + 12 Poems = Level 3 = I Want You To Love Me
For the one you love,
buy the album, I WANT YOU TO LOVE ME.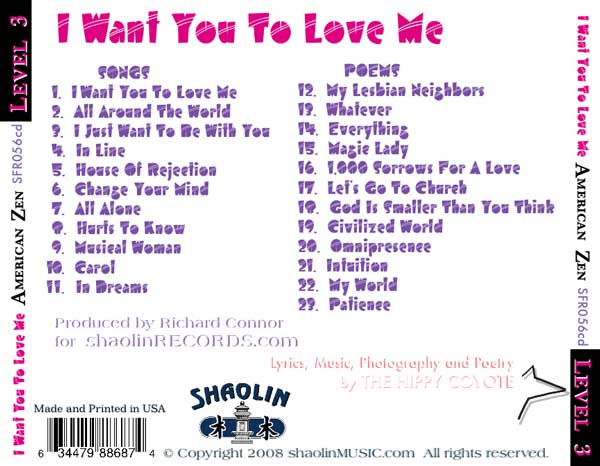 Danceable, singable, unique, different, and memorable. This third album by American Zen shows the growth of The Hippy Coyote.
Songs like The Beatles. Spirit of the sixties. With Coyote on drums.
From "The Best Flute Player In The World," to "the world's best album by a 2-year old drummer." "I might have a chance at that," laughs Coyote.
I produced the album with a classic rock attitude seeking to preserve the performance and not capture the emotions. I'm very happy.
It was a difficult album. Coyote was under a lot of pressure to record the drums so we could start the album. We waited, and waited, and then he got evicted. So we had one last chance before the dark unknown swallowed us. Coyote recorded the drum tracks, but we knew we wouldn't have time to finish the album before being kicked out.
Then we got a month extension. We recorded the vocals. We packed everything except the studio and my office desk. We recorded the bass. We recorded it loud. But recording opportunities were limited in our Tujunga studio. Not fully soundproofed, the governor's helicopter or a Hell's Angel cruising by would ruin a recording... So I came up with a way to record the bass through the Marshall amp and then a D.I. Direct Input box to transform it into a low impedence signal using phantom power then...
Then we recorded the poetry. I didn't think we'd ever get the poetry recorded. But we did and I already had the vision, before I recorded the poetry, of having the bass on the poems. We packed up all the guitars except for the bass. The bass was there til a day before the Marshalls locked us out of the house.
Just days before being locked out we got the bass tracks on the album. I am the luckiest man in the world.
Next page

of the LEVEL 3 Website


CD Album Title: "LEVEL 3 = I Want You To Love Me"
Artist: American Zen
Record Company: Shaolin Records
Released: September 11, 2008
1. BUY ALBUM
2. LISTEN to ALBUM
3. DOWNLOAD ALBUM GRAPHICS
4. TRAVEL BUDDHIST JOURNEY of American Zen
5. VISIT ALBUM WEBSITES of LEVEL 3
6. THIS YEAR'S PERSONAL WEBSITE of The Hippy Coyote
7. PODCASTS of LEVEL 3
8. POETRY BOOK and POETRY WEBSITE of LEVEL 3

The Coyote