by THCoyote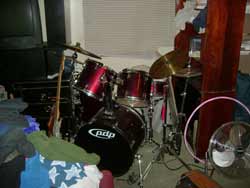 Looking back--I'm impressed. I slept with my guitar and played it all day every day practicing for the album. I spent two years practicing the drums to be a professional. I carried the sticks with me and played "air drums" wherever I went. My vocals came out even better than I expected. Because I haven't been performing lately, and because I no longer serenade my infant son every day, my voice is at a lower endurance.
I cut all the vocals in one night. Each song was recorded with the background vocals first, then I 'd lay down a lead vocal or two. It was a later decision to pair them up creating a more Beatles type of sound. I wasn't trying to match them, but as you can see, I do sing consistently, with feeling.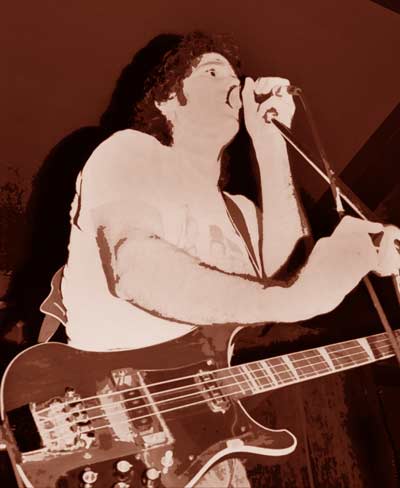 When I got to the song, "Hurts To Know," my voice was gone. I started to quit. Then I remembered that this could be my last chance to record the album until whenever. My Kung Fu kicked in and I realized that like any life and death battle, sometimes to live you must go the extra distance. So I went for it. I cut "Hurts To Know" as best I could. I barely remember the thought of holding back to last longer and immediately reversed my thinking to "Do my best!"
I was hoarse and could barely talk for the next three days. I saw that coming when I considered stopping before the end of the album. I knew at that point that I wouldn't be able to sing again for a number of days. That also motivated me to complete my sacrifice and suffer the consequences--of being a winner.
This album was Kung Fu for me. Instead of learning or relearning a Kung Fu Form or weapon the past two years, I made drumming my Kung Fu. I tried to put one hour practices in at least three days a week.
My music is Kung Fu. I'm anxious to record our next album, LEVEL 4 = KUNG FU COWBOY.
Next page

of the LEVEL 3 Website


CD Album Title: "LEVEL 3 = I Want You To Love Me"
Artist: American Zen
Record Company: Shaolin Records
Released: September 11, 2008