End of the Line
music album by
American Zen
Released July 4, 2014

Available at:
End of the Line is the musical autobiography of The Hippy Coyote of American Zen. Leaving his family behind on the day before Christmas in 2011, Coyote packed up his life to start a Buddha Kung Fu Kung Fu school in Las Vegas, Nevada. With the assurances of a Kung Fu brother, he expected room and board for performing up to 85 Chinese Kung Fu Lion Dances and teaching at a Las Vegas Shaolin Kung Fu school.
Unfortunately, the day after the Chinese New Year of 2012, Coyote was told to hit the road. Without friends, relatives, students, or a job, Coyote struggled for several months living in the backyard of a Freemason. The song, "Use Me," was written in that Las Vegas garage.
Coyote worked for a temp service and as a stagehand until he'd saved enough money to move back to California. Unfortunately, he was no longer part of the YMCA teaching budget and being homeless he couldn't enroll enough Kung Fu and Tai Chi students to pay rent...
So Coyote moved back to San Diego in 2012, where he was raised and had lots of relatives. The relatives refused to help him launch his Tai Chi Youth nonprofit education organization. Working as a "day laborer" digging dirt and pushing wheel barrows, Coyote realized why he'd left San Diego in 1978 and had distanced himself ever since then from his Republican relatives.
Coyote wrote the song, "High School Graduation Reunion," for what would have been his 40-Year High School Reunion if he hadn't been exiled from the USA in 1970 to live in St. John's Newfoundland. Now known as Buddha Zhen to his Kung Fu and Tai Chi students, Coyote hoped that he could recruit the kids and grandkids of his San Diego friends and classmates.
In October 2012, after Coyote realized that his childhood friends were also of no use in starting his Buddha Kung Fu and Shaolin Chi Mantis Traditional Buddhist Gongfu programs, he received a call from Scott Karahadian to make a movie, Kung Fu Cowboy, to star Coyote as a homeless vigilante. Coyote optioned his life, and Scott started writing the screenplay.
Two weeks later Coyote was stung in the neck by a small tan scorpion near the Mexican border while working as a stagehand for a Brad Paisley concert. Injured and unable to walk for several months, Coyote jumped in to write about ghosts emerging from his body to do his Kung Fu fighting for him. A couple weeks after the screenplay, Kung Fu Cowboy Rock & Roll Movie 1, was completed in late February 2013, Coyote wrote the movie's theme song, "Scorpion Resurrection."
On Mother's Day 2013, Coyote wrote "Secret Asian Girl," for Kung Fu Cowboy Rock & Roll Movie 2 as he worked on that screenplay in his spare time. With Coyote's new independence after being a Mr. Mom since 1991, the song "Rock Me Hard," emerged as Coyote was pursued by lovely young ladies that lusty summer in North Hollywood.
On Father's Day 2013 Coyote wrote and recorded a demo of "Kung Fu Cowboy 2." Coyote was redefining his new identity as he slept in his car and struggled to produce his Kung Fu Cowboy movie.
"Take Me Apart" was written for the Kung Fu Cowboy Rock & Roll Movie 2 with Coyote expecting to perform it live in the movie, signing and playing a Chinese pipa guitar.
"End of the Line" song was inspired by a couple people in Coyote's world. This almost hostile song also represents Coyote's frustration with people in his life who were self-destructive, and their own worst enemy.
After analyzing the failures of his own love lives and the marriages of countless people since his childhood, Coyote wrote "Honor and Obey, Cherish and Protect." Coyote imagined this song being sung by a bride and groom as their wedding vow. Perhaps someday Coyote will perform this song at his own wedding.
One of the Kung Fu Cowboy Rock & Roll Movie sequels will feature Coyote on a chopper. As Coyote worked on the four screenplays, this song emerges as the opening number of Kung Fu Cowboy Rock & Roll Movie 4. "Black Hills Ride" is an instrumental song featuring Coyote on flute. During the summer of 2013, Coyote carried his flute with him, jamming with bands and performing for the North Hollywood neighbors of his two children where his Toyota Tacoma truck was dry docked with a blown up radiator.
When Coyote recorded (on his phone) the flute instrumental song "Starting Over Again," he realized that his album was completed. For the next couple months Coyote performed this show in the back of his truck . The Kung Fu Cowboy show debuted Novemenber 22, 2013 at the Tribal Cafe in Los Angeles. Although Coyote worked hard to audition drummers to join him, it became apparent that this was destined to be a solo album featuring Coyote on his electric guitar and flute.
As the End of the Line album was being completed... Coyote was also writing the Supersoul 13 book inspired by the Bhagavad Gita scripture. These songs depict and portray the spiritual journey of our homeless and solitary renaissance man struggling to restart his life and rediscover, Peace of Mind. In the end, End of the Line represents a dedicated father becoming a dedicated artist dedicated to improving the world by making his Kung Fu Cowboy Rock & Roll Movie 1.
End of the Line is the beinginning of Coyote's new artistic life.
King Solomon's Temple
Released June 9, 2010

Available at: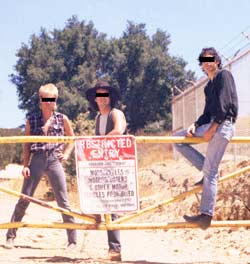 LEVEL 1 told the story of Coyote's move to Utah where he was ostracized for being a long haired, rock'n'roll Buddhist, Catholic, from California.
LEVEL 2 displayed Coyote's evolution into his musical world of tambourines and flutes. The Mormons were still chasing him. However, rather than reacting to his persecutors, he sings songs that show his spiritual enlightenment of seeing through his opponent's eyes.
LEVEL 3 was recorded after Coyote returned from Utah. This album commemorates getting back to California, searching for love, finding love, losing love, and just being lusty. The spiritual evolution here is Coyote's enlarged love beyond his family and appreciation of all world religions. Richard Del Connor, The Hippy Coyote is also, Buddha Zhen, who decides he is more than the founder and Patriarch of his Zen Buddhist religion, shaolinZEN.org, and creates his spiritual title of, BUDDHIST SCIENTIST.
LEVEL 4 was recorded in two locations: Crescenta Valley Park "CV Park," and Coyote's Montrose apartment with such thin walls you can hear the neighbors snoring at night. With only a few hours during the day, and only a few days a week, Coyote had difficulty squeezing in recording sessions for the vocals, guitars, percussion, and flutes. CV Park was used to record all the drum tracks on the LEVEL 4 Part 1 and Part 2 albums.
The song, "King Solomon's Temple Penny Whistle," and several other Masonic themed songs, were already on the album before record producer, Richard Connor, decided to change the album title. This new ROCK OPERA concept for the LEVEL 4 = Kung Fu Cowboy PART 1 album, enabled Richard to mix the album while envisioning the movie/rock opera/storyline of Solomon's Temple. During the song, "King Solomon's Temple Penny Whistle," the characters of the rock opera are positioned and move about in the musical Temple as Richard panned the vocals from one side to the other. The "burps" are from King Tyre, who presided over the Temple construction with King Solomon.
In the song, "Hiram Abif," the characters are defined and positioned for the murder that will take place in, "Kill The Spider." where King Solomon will also have his revenge during the song.
Wanna be Zen?
Zen includes following instructions -- naturally.

INSTRUCTIONS for LEVEL 4
1. BUY ALBUM
2. LISTEN to ALBUM
3. DOWNLOAD ALBUM GRAPHICS
4. TRAVEL BUDDHIST JOURNEY of American Zen
5. VISIT ALBUM WEBSITES of LEVEL 4
6. THIS YEAR'S PERSONAL WEBSITE of The Hippy Coyote
7. PODCASTS of LEVEL 4
8. POETRY BOOK and POETRY WEBSITE of LEVEL 4

The Coyote